Bodog Poker Referral Number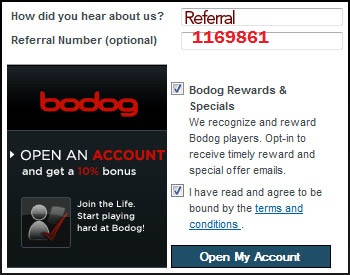 Bodog Poker offers new players who join the site through Review Poker Bonus a special 100% up to $550 cash bonus using our exclusive new player Bodog Poker Referral Number "1169861" when making their first deposit. Using this Bodog Poker Referral Number is the best way to make sure that you receive the maximum bonus as a new player at BodogLife.com. All you need to do to claim your free bonus is create a new Bodog account using the links below and enter this referral number when you make your first deposit at the site. By following this process, the bonus will automatically be attached to your player account and will appear immediately after you have made your initial deposit. If you are ready to join Bodog Poker now, simply use the link below and following the referral number guide for your first deposit.
Bodog Poker Bonus Code
As a new player at Bodog, you do not need a Bodog Poker Bonus Code to receive your welcome offer as long as you use a referral number when you make your first deposit. There is some confusion amongst players as to whether they need a bonus or deposit code when joining Bodog Poker however all you need to claim the Bodog bonus is the referral number illustrated above. This will ensure that you get the maximum bonus as a new player on the site. The Bodog Poker bonus is split into two parts, the first being a cash bonus of 10% up to $50 and the second being a match bonus at 100% up to $500 for free. What this means is that when you make your first deposit, the cash bonus (which is immediately available in your account) will be applied at a 10% match rate and the remaining bonus up to $500 will be added to a bonus account at a rate of 100% match on your deposit. To receive the maximum bonus, deposit $550 the first time you play.
Clearing The Bodog Life Poker Bonus
Once you have received your Bodog Poker welcome bonus, you will need to earn Bodog points by playing in ring games and tournaments to convert the second part of the bonus to real money. Bodog Poker points are earned at a rate of between 0.10 up to 1 point per raked hand depending on limits and for tournaments 1 point is given per $1 in tournament fees. For the Bodog match bonus, the player will need to earn 3 points per $1 in bonus money so to unlock the full bonus you will need to accumulate 1500 points playing on the site. These clearing requirements only apply to match bonus (max $500) and the upfront cash bonus has no requirements attached to it and will be available instantly for use.
Bodog Life Poker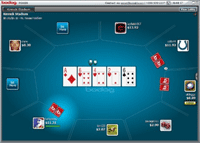 Bodog Life Poker is one of the best US poker sites on the Internet and offers players great action, bonuses and promotions making Bodog one of the most comprehensive poker sites online. In addition to their poker room, Bodog also features a full casino and sportsbook allowing for lots of flexibility for players who like other games in addition to poker. In terms of the poker site, Bodog is known as having some of the loosest and juiciest games around and also has a really slick software platform that is well received by players. Additional perks to becoming a Bodog player include entry into their VIP player program as well as access to exclusive Bodog poker tournaments with $100,000's of dollars in prize money.